About Smithville Chiropractic Clinic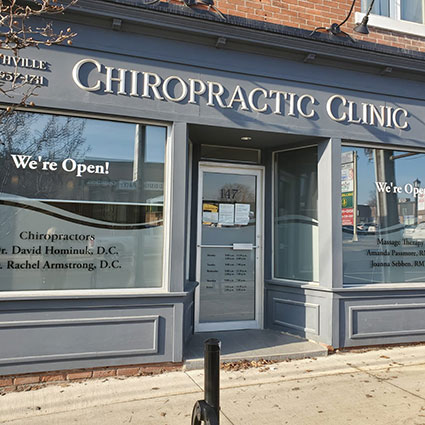 At our family-friendly practice, we offer a relaxing environment where you can get the natural care you need. Dr. David Hominuk started at the practice in 2007 and took over Smithville Chiropractic Clinic in 2020. Dr. Hominuk remains committed to serving the Smithville and West Lincoln, Grimsby communities with the highest quality chiropractic available.
Small Town, Big Hearts
We chose this town so that the good natured people of Smithville can truly benefit from chiropractic care. – Dr. Hominuk
Our team loves our small, family-oriented town. The people in our community enjoy a healthy and natural lifestyle and understand how chiropractic care can help relieve health conditions naturally.
The Smithville Chiropractic Clinic Purpose
Our purpose is to enhance the quality of life and wellness of our patients and community. We will help them in whatever ways we can to achieve their health goals.
Helping You Get Back to What You Love
What do you wish you could do more of, if you weren't in pain? Whether you want to run that 10k, play with your kids, golf or garden, chiropractic can get you back to what you love in life.
MEET THE DOCTORS »
A Patient Success Story
Every day we are honoured to get patients results that help to improve their lives. Here's one memorable patient success story:
A retired woman came in with severe back pain. She had enjoyed golfing and playing with her grandchildren, but the pain that she had prevented her from participating in her favorite activities. After weeks of chiropractic care, the patient was able to resume her daily activities. She was able to golf, pick up her grandchildren and play with them.
Book an Appointment
Contact our chiropractic clinic today to schedule an appointment!
---
About Smithville Chiropractic Clinic | (905) 957-1711